Make a Great Wedding Playlist
Its stressful planning your own wedding, especially if you're trying to keep costs down and doing it all yourself. Let MixMoose help reduce some of that stress by helping you make a great wedding Spotify playlist.
Hire a DJ
This isn't a bait and switch tactic to get you to click some referral links, but a fantastic floral arrangement isn't going to get anybody on the dance floor, and the best catered meal is just going to fill everyone up.
A DJ can get a sense of how the crowd is feeling and respond accordingly to make the night extra fun. They can also MC and which is an important duty as well. (Have you ever seen a florist MC? Not good.) So maybe shift some funds around and see if you can and hire a DJ? Disclaimer: The creator of MixMoose may have been a wedding DJ back in the day and he's pretty sure every wedding he worked was a blast.
Make Multiple playlists
So you're not hiring a DJ? Then you need to make multiple playlists that correspond to the stages of your big event. You should at least separate dinner/cocktails from party music, but you don't have to limit yourself to just those: The mood at the start of a party might be different at the end, or you might want to create playlists that have songs that get people back on the dance floor to follow breaks such as cake cutting.
Ceremony Music
If you're going to using Spotify to play music such as recessional and procession songs, then put them in their own playlist. Also, make sure the person who plays these songs has rehearsed this bit. You don't want to stand around waiting for somebody to find the play button or accidentally walk down the isle to some hard core death metal.
Dinner/Cocktails
Depending on your crowd you could have some instrumental piano music or made some tunes like anything from Sade's Love Deluxe.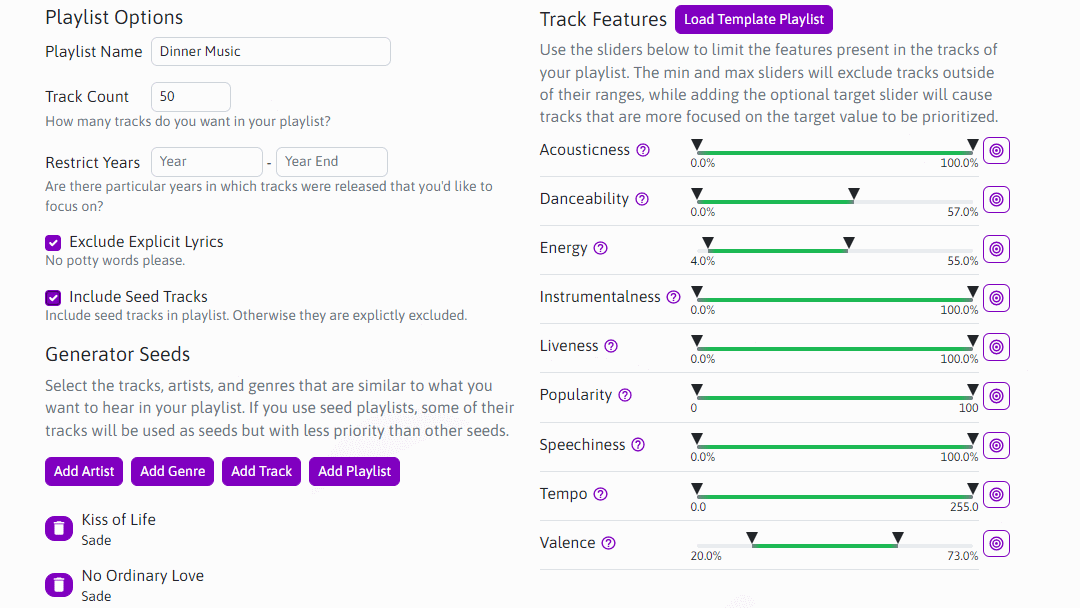 The best way MixMoose can help here is with the generator. Throw in some appropriate tunes into the Generator and make a playlist based on those tracks. Make sure your adjust track features appropriately to keep the Energy and Danceability down a bit, and have valence somewhere in the middle. Also, check that Exclude Explicit Lyrics Box. For fun, I threw in a few tracks from Love Deluxe and MixMoose generated a great playlist. Go ahead and analyze it, if you want.
MixMoose can also help if there's an existing playlist you want to use. Like with generating the playlist, you want to control the feeling of tracks to ensure everything works for dinner. You can either use the sort or the filters to find tracks that might go out of bounds, and remove those that are out of a good range. Any changes you make will create a new a playlist for you if its not collaborative.
Party Time Music
First off, make a list of essential songs that have to be played at your wedding. These could be special songs between you and your new spouse, songs you remember listening to when partying with your friends, specials songs from your parents' wedding, songs older relatives used to jam to back in the day, silly songs like the chicken dance, or a song your niece does that TikTok routine too. If you missed the theme, most of the tracks should be tracks your guests like, but are not necessarily your favorite.
If your list isn't big enough, throw them into the generator and make a playlist with as many tracks as you can handle, and don't forget to click Include Seed tracks. You'll want more tracks than you need because you should then thin out the recommendations.
Now its time to Flowify. Flowify will group like tracks and then try arrange the groups in a diverse order. You should probably emphasize energy, danceability and BPM. But try different combinations and see what looks the best.
Next, rearrange the playlist so some of the best tracks appear up front and there are no slow songs until the middle (you can use the tempo feature to help with that). After every slow group make sure follow up with some bangers popular crowd-pleasers.
Finally, add Donna Summer's Last Dance as the last song because that's what you do.
Don't Forget Feedback
Congratulations! You should now have some great playlists. But, you're not done yet. Share it with your best friends and get their feedback, because you probably forgot something. You can click the playlist title from MixMoose and get social share links to help quickly spread the word.
Performance Tips
Just because you have great playlists for every situation, doesn't mean the work is done. Here are some tips to ensure a smooth performance.
Have a backup playback device in case your primary device breaks or gets lost.
Prefer wired connections to bluetooth playback.
Make sure you have amplified speakers that are loud enough to cover the venue.
Test your devices with the speakers beforehand to ensure you can playback properly.
Download all tracks to your devices! Internet can be a fickle thing.
When you're playling ceremony music turn cross-fade off so the next song doesn't start accidentally.
For dance music, turn cross-fade on, as this will keep the energy up between songs.
You're all Set
If you follow this tips then you should be all set to have a great night. But if I forgot something, leave a comment at the contact page.