Using MixMoose's Playlist Search
When loading a playlist, you're presented with a simple search box - but it really isn't that simple. There are a myriad of ways beyond keyword search to find the playlist you're looking for.
My Playlists Button
In case you didn't notice it, there is a My Playlists button. Click it, and the playlists from your library should load.
From Spotify

If you have the Playlist you want to analyze open in Spotify, go to Share and select Copy link to playlist. This should copy the address to your clipboard. Then paste it into the search box. You should see some text that begins with https://open.spotify.com. Once that's done, and you hit search, the playlist should be the only search result.
By User

If you can find a user in Spotify, then you can get a link to the user that you can paste into the search as well. Just select Copy link to profile, and paste the link into the MixMoose search box.
You can also view a user's playlists from the Analysis Search Results. Just click the playlist creator's name and select Get User's Playlists. This will replace the current results with the user's public playlists.
Spotify URIs
If you clicked Get User's Playlists from the previous tip, you'll notice that the search box fills into with some funny text that looks like spotify:user:otnlkmqa7dwu70eubl2ub7l0r. This is a Spotify URI, and you can paste a user or playlist URI into the search and you should get the results you're looking for.
Where do you find these URIs? I don't know, but they're out there if you look.
Made for you Playlists
If you type Discover Weekly or Daily Mix into the search box, your Made for You playlists should appear somewhere in the search. Just make sure the creator is Spotify since other users may have created playlists of the same name.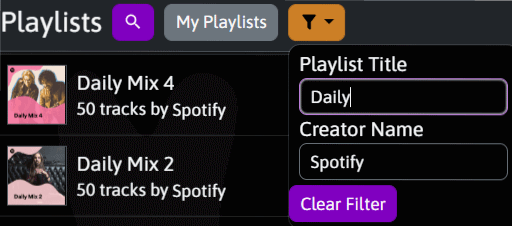 Another way to get at this is to search for playlists created by Spotify. The only problem with this method is that you might have to hit the Load More Results button several times until the playlists appear.
You can improve either method by using the Search Filter. For example, if you search for Daily Mix, you can then type in Spotify in the Creator Name filter, to filter out all other creators. Alternatively, you could return all playlists by Spotify, and filter by playlist titles. Either way, you may have to load more results if the playlist you're looking for isn't returned immediately.
The Future...
Maybe one day there will be an Open in MixMoose button in Spotify. But until that day comes, these methods should help you quickly find the playlists you're looking for.